When the term virtual assistant comes into the conversation, we usually think of people in front of their computers, with headphones on, talking to customers over the phone.
But there's more to it than that. In recent years, virtual assistants have expanded their services to other marketing skills like social media management.
Today, we sat with Annie, a Filipino virtual assistant who's been in the industry for two years now. She'll fill our curiosity about the life of a Filipino remote worker and how becoming an FVA has changed her life.
What does your typical day as a Filipino virtual assistant look like?
My day usually begins at 6:30 AM, when I wake up, do my bathroom routines, and allow my brain to buffer for the day ahead of me.
I always make it a point to do a quick exercise in the morning. Either I do quick warm-ups or take my dog for a 10-minute walk outside.
Once I'm sitting at the table with a hearty breakfast before me, I take the time to check on my social media accounts and reply to messages.
By 8:00 AM, I'm already in my Filipino virtual assistant mode in front of my laptop. I check any emails from my clients (I currently have three) and respond to any urgent messages.
Next, I check the project management tools me and my clients use to arrange my to-do list and any due dates.
From 9 to 12 PM, I'm focused on working on my tasks as a Filipino remote worker – writing a blog post, responding to online reviews, processing refunds, or editing a podcast. I make it a point to accomplish as much during the first half of the day.
Once the clock strikes lunch break, I step out of my working station to get fresh air. I also use the short break to catch up on some news and trends in the digital marketing space and the world in general.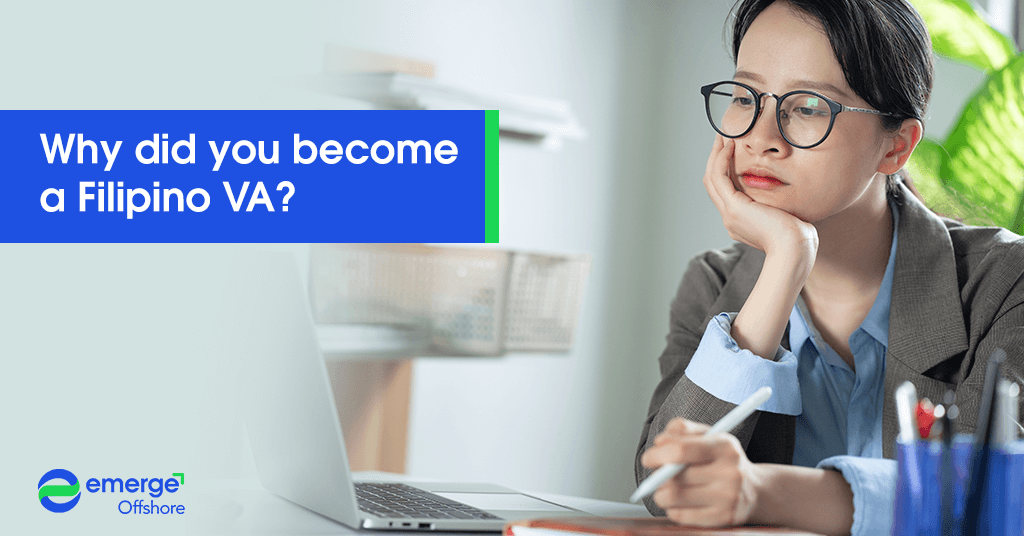 After that, it's back to work mode. Usually, in the latter half of the day, I'm just polishing up some details of my work or finishing my quota, then it's submission/report time to my clients.
I wrap up the day by ticking off my completed tasks for the day (and boy, does it feel good!).
I also take time to review my upcoming tasks and update my calendar. This way, I can mentally prepare for the next day's worth of work.
Once I leave my desk, Annie the FVA is offline for the rest of the day. Either I resume my current Netflix obsession, read a novel from my TBR list, or simply chill and daydream under the stars.
Why did you become a Filipino VA?
The major reason I became a Filipino remote worker is the change of pace and lifestyle, career-wise. Sure, my previous job at the BPO company paid well, but the burnout weighed down the work-life balance I wanted to maintain.
Then there's the one thing every corporate employee hates – the commute. The journey plus the fare are enough to guarantee a headache every time I come home.
I wanted a job where I could deliver my skills and be properly compensated for them while having control over my time. Becoming an FVA gave me that, along with the perks of a pressure-free working environment.
How did becoming a Filipino remote worker change your life?
Perhaps the biggest impact of becoming a Filipino VA is the return of my motivation to work. I've always been a creative soul and making content for businesses always sparks joy in my brain.
Career satisfaction also comes to mind. I finally found a job where if people ask me what I do for a living, I can discuss my answer for hours.
I also found more time to learn new talents and improve my overall health ever since I became an FVA. Whenever I feel like running out of creative juices or a headache coming in, I can always leave my station, take a quick break, and appreciate the world outside.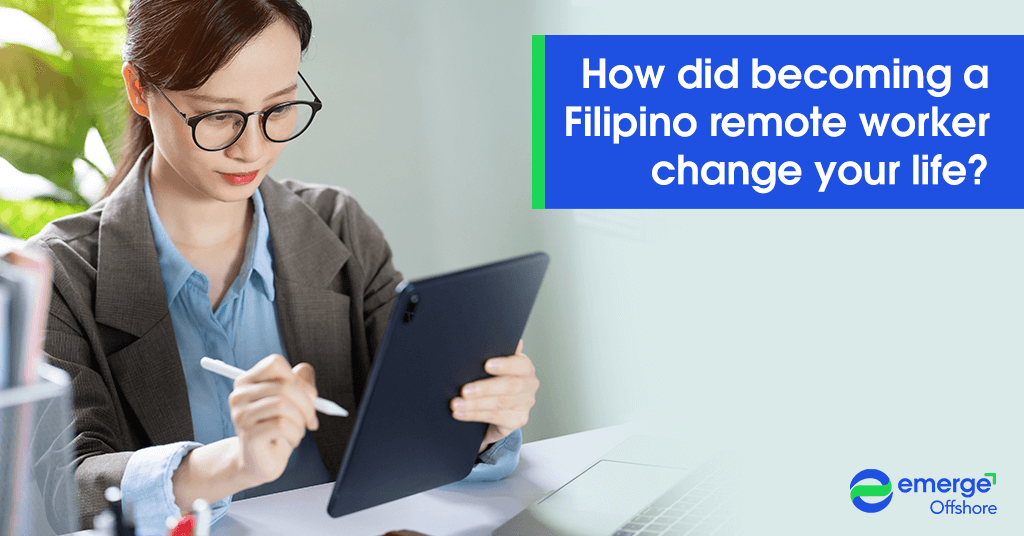 Lastly, I got to meet (and assist) people across the globe – entrepreneurs who want to make a change in the world.
Being able to contribute to a positive impact on the world, no matter how small it is, will always be one of the greatest rewards of my career.
What services do you offer as an FVA?
As a Filipino virtual assistant, I offer the following services to clients in the fields of finance and real estate:
Graphic design
Social media management
Content writing
Email management
Customer service
Looking for assistance with the services Annie mentioned? Schedule a free consultation with us and discover the Filipino virtual assistant that's fit for your business!
Share this post?